Book a Dun Laoghaire Ferry ticket for your ferry crossing from the Irish ferry port of Dun Laoghaire to Hollyhead port with Stena Line ferries. Book online a Dun Laoghaire Ferry crossing ticket with whichferry.co.uk


The ferry terminal at Dun Laoghaire is one of the main entry points into Ireland from the United Kingdom. After a prolonged period of discussion and the announcement by Stena Line Sealink that they intended to use a HSS on the ferry route Dun Laoghaire - Hollyhead, it was decided to rebuild the terminal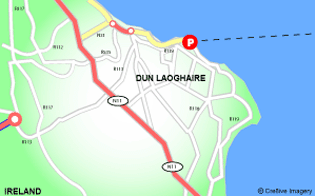 Should you be approaching Dun Laoghaire from the west - perhaps from Limerick Portlaoise or Galway, you should follow the signs for Dublin until you get to the M50/N81. From there follow signs to Dun Laoghaire ferry port. These signs will have the Stena Line feries logo on them as well as the names of other towns on the way.
Driving from the North and the North West you should again follow signs for Dublin then take the Eastlink Toll bridge route, taking the N11 going south for Wexford and the South East, you will soon find signs for Dun Laoghaire ferry port.
Coming from the South West and the South, following signs for Dublin you are likely to be coming via Waterford or Kilkenny or Carlow which heads for the N11. When you get to Loughlinstown, which is near Bray you will see signs for Dun Laoghaire Port.
The Dun Laoghaire ferry port is close to the town centre. Travelling along the coast heading for the DART station you will soon see the signs for the Stena Line Ferries Terminal entrance. Travelling through Dun Loaghaire centre you should drive down Marine Road towards the sea and following signs to the ferry terminal.