Book a Zeebrugge Ferry ticket for your ferry crossing from the port of Zeebrugge in Belgium to the port of Hull with the ferry operator P&O Ferries North Sea. Book online an Zeebrugge Ferry crossing ticket with whichferry.co.uk


Zeebrugge ferry port welcomes approximately 800,000 passengers yearly, who either make the ferry crossings to Hull, or board of luxurious cruise ship. Zeebrugge has grown into Flanders most important cruise port because of its central location and easy access. From the port onwards, the passengers have indeed a large choice between different daytrips. The historical centre of Bruges and the other Flemish cultural cities can count on a lot of tourist interest. The port of Bruges / Zeebrugge has a long history which stretches back to the beginning of the Christian calendar. There were periods of affluence but also of decline. In the past 25 years cargo throughput in the Zeebugge port has risen spectacularly. With approximately 10,000 ships every year and a cargo volume exceeding 32 million tons, Zeebrugge is one of the fastest growing ports in Europe.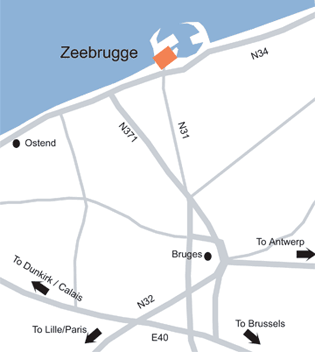 The terminal is situated at the outer dock (Buitenhaven), Leopold II Dam (Havendam). In Zeebrugge follow the signs Zone 1, Car ferries and P&O Ferries/Hull.