Book a Rotterdam Europoort Ferry ticket for your ferry crossing from the port of Rotterdam Europort in Holland to the port of Hull in UK with the ferry operator P&O Ferries North Sea. Book online an Rotterdam Europoort Ferry crossing ticket with whichferry.co.uk


The Rotterdam port and industrial complex fulfils an important role as a hub for international goods flows and as a business location for industry and logistic services. The port and industrial complex is of great significance for the European, national and regional economies. Rotterdam is one of the most important junctions in the world when it comes to cargo traffic. Rotterdam Europoort is located on the North Sea - the busiest sea route in the world. The port of Rotterdam covers an area of 40 kilometres, from the center of the city to the North Sea.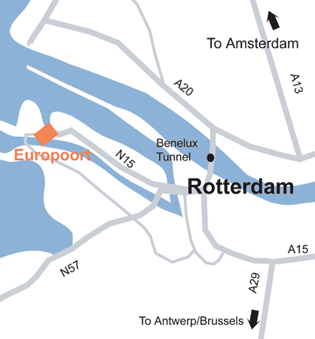 The terminal in Europoort lies approx. 37 km from the centre of Rotterdam, or about a one hour drive. On approaching Rotterdam, follow the signs for Europoort. In the Europoort area, just follow the signs Engeland and P&O Ferries. The dock number (Havennummer) of P&O Ferries is 5805.