Book a Dover Ferry across the English Channel to the French port of Calais. Book a Dover Ferry with whichferry.co.uk


Backed by its famous White Cliffs, Dover is located in Kent, on the southeastern tip of England and is the closest geographical point in the UK to Continental Europe.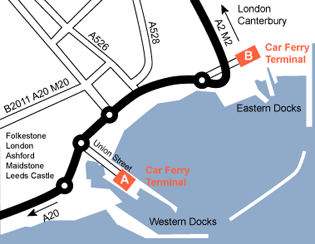 Dover is 70 miles south of London, directly linked to the M2/A2 and M20/A20, both of which connect to the M25. The SeaFrance and P&O Ferries Terminal is situated to the east of the town at the Eastern Docks and the Hoverspeed terminal is to the west. Both can be easily reached by foot or taxi from Dover Priory Station. If you are travelling by car, simply follow the clearly signposted routes from the A2 or A20.