Book a Bilbao Ferry ticket for your ferry crossing from the port of Portsmouth in England to Bilbao in Spain with the ferry operator P&O Portsmouth Ferries. Book online an Bilbao Ferry crossing ticket with whichferry.co.uk


The city of Bilbao, the biggest port in Spain and the 6th largest city, is situated in the heart of the Basque Country and is a good place to see the regions attractions. The ferry port of Bilbao is situated in the centre of the European Atlantic coast, on the eastern side of the Bay of Biscay. This advantaged geographic location enables Port of Bilbao to link with the main international ports, especially links with both the American continent and the north of Europe. After 700 years of acting as a port, nowadays over 200 maritime services link Bilbao with 500 ports worldwide. The Port of Bilbao meets the highest operational capacity requirements. Last year, Port of Bilbao handled over 110,000 passengers.
Taking the ferry from the port of Portsmouth to Bilbao enables you not to have to drive the long distance travel through France. As a major city in Northern Spain, Bilbao is a great place should you be going on an onward journey into Spain.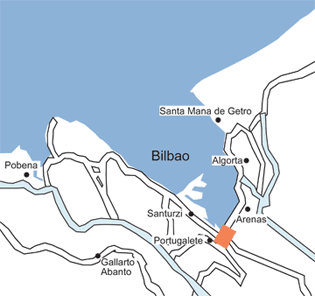 The P & O Portsmouth port terminal in Bilbao port is accessible from both the west (Santander) and the east (Madrid and Barcelona) via the A8. Take the N644 turn off and follow this road to the Bilbao ferry port.