Book a Le Havre Ferry ticket for your ferry crossing from the port of Le Havre in Normandy, France, to the ferry port of Portsmouth in England with the ferry operator P&O Portsmouth ferries. Book online a Le Havre Ferry crossing ticket with whichferry.co.uk


The port of Le Havre itself was founded in 1517 but King Francois I. It is now the 2nd largest ferrry port in France. It is the mouth of the River Seine and Paris is 200 kms away, making Le Havre also the closest point to Paris. Whilst Le Harve is a nice place to visit, we recommend that you consider Honfleur as your first stop. At the entrance to Europe, on the busiest sea in the world, the ferry port of Le Havre enables imported goods to reach continental Europe at least one day before other North-European ports; containers transiting through Le Havre port have already been delivered to their European distribution centres whilst other ships are still docking in Antwerp or Rotterdam.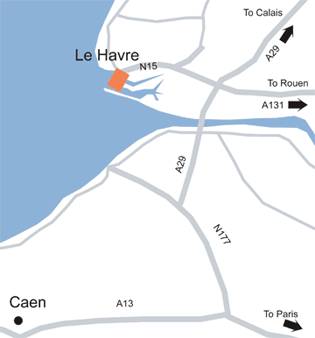 Le Havre is linked to the rest of the country by the Normandy Bridge. There are 2 ferry terminals in Le Havre: the Terminal de Grande Bretagne (British terminal) is close to the rail and bus stations in the Bassin de la Citadelle and operates P&O Ferries sailings. Le Havre port is about 200km from Paris on the A131 and has good motorway connections to the rest of France.