Book the Eurotunnel across the English Channel to the English port of Folkstone. Book a Calais ferry now with whichferry.co.uk


When you arrive in Calais, you are in the Pas de Calais region of France. There are a wide variety of places to visit, each just a short drive from Calais. From the famous fishing port of Boulogne to the town of Hesdin set in the pretty forests of the Seven Valleys, there is plenty to see.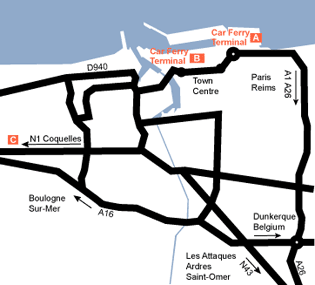 The quays of the Port of Calais are directly connected (via the new autoroute bypass) to the European motorway network by the A26 (Calais-Dijon) - which serves the centre of France and provides access to Southern Europe avoiding Paris. The A16 links to the Benelux and Northern Europe motorway systems.